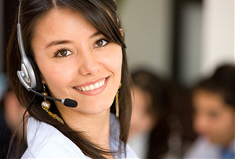 Monster PC Solutions is a Managed Services Provider ("MSP") offering your business a professionally trained full-time IT staff for a low, guaranteed monthly fee. We focus on being proactive, performing preventative maintenance to reduce downtime, increase overall performance, and boost productivity.
Our various information technology solutions are designed to aid companies in dramatically improving their IT environments so they can devote their valuable time and resources to the more important business operations.
Frequently Asked Questions
Q: In which cities are you capable of delivering service?
A: Anywhere. The great part of how this works is that the majority of the work can be done from anywhere by utilizing remote access and VPN technology. We can work on your network from anywhere just as if we were sitting in your data center or right in front of your end-user's computer. If your business is not in a location where we have an office, we have partners throughout the country who will work as a part of our team to deliver on-site service when necessary. We supervise them very closely and have done the research to ensure our partners have the knowledge and experience necessary to meet our high standards of service. This arrangement is seamless to our customers.
Q: How fast are your response times?
A: Immediate. Since we continuously monitor your network, we know about most problems before you even do! We respond within minutes to begin fixing problems. Help Desk is available 24x7, and hold times average less than 1 minute!
Requests for on-site service are lightning fast too... You can expect a qualified technician to be at your door the same day!
Q: Can an outsource IT firm provide the same level of service as an internal IT department?
A: Yes, in fact with a team of experts, we can be onsite whenever you need us. We also provide 24 x 7 x 365 assistance as well as remote support to resolve any technical issues.
Q: What are the benefits of outsourcing my technology? How do I know if my company needs it?
A: There are many benefits to outsourcing technology that every company, large or small, can gain from. Here's something else to consider: when you outsource your technology to Monster PC Solutions, it is a 100% deductible operating expense.
Q: So what is wrong with traditional IT services?
A: Most IT service providers are reactive: something breaks, you call your IT provider, and they come out to fix the problem. This "break-fix" model means you never know what your IT costs will be from month-to-month. Also, there is no incentive for the IT service provider to do preventative maintenance on your systems. Since they charge by the hour, the more your systems break, the more you call them, the more money they make.
Q: How is Monster PC Solutions different?
A: Monster PC Solutions charges a flat rate; Monster PC Solutions is proactive: we do as much preventative maintenance as possible to keep your systems up-and-running at optimum levels. While no one can promise to eliminate unexpected downtime altogether, Monster PC Solutions typically reduces them.
Q: How can Monster PC Solutions save my business money on technology costs?
A: Whenever your network breaks for some reason and you have unplanned downtime, this directly affect your office's productivity and costs you money. Whenever you or someone in your office attempts to troubleshoot your computers instead of calling your IT service provider, this costs you money because that employee is not doing their own job. We will be able to significantly reduce your unplanned downtime. Neither you nor anyone in your office will need to troubleshoot your computers again. Your office can then concentrate on what you do best – running your business; and Monster PC Solutions can concentrate on what it does best – managing and supporting your technology needs.
Q: What is a Managed Service Provider?
A: A managed service provider (MSP) provides delivery and management of network-based services, applications, and equipment to enterprises. Managed service providers offer services that include fully outsourced network management arrangements, including advanced features like virtual private network (VPNs), managed firewalls, and monitoring/reporting of network servers. These services can be performed from outside a company's internal network with a special emphasis placed on integration and certification of Internet security for applications and content. MSPs serve as outsourcing agents for companies that don't have the resources to constantly upgrade or maintain faster and faster computer networks.
No matter what your line of business, technology runs central to your success. If you do not see your industry above, that does not mean Monster PC Solutions' core services aren't right for you.
Contact us today and see how we may be able to help your business move forward and ensure your technology investments are not wasted.